Singer/Songwriter - Americana/Pop/Rock
"Christopher Dale writes convincing lyrics that are then sung in one of music's most beautiful voices. This man's got acoustic soul." 
- Caley Cook, City Beat 

When you've pulled a Playboy magazine out of your backpack for kindergarten "show & tell" and spent many a high school weekend partying south of the border, in the bars of Tijuana, you have stories to tell. Christopher Dale is an older, bigger kid now who just finished a show with his mom and aunt next to him on stage, making free pancakes for everyone on a flat iron grill. His songs make you sing, dance, laugh, cry – remember, and his shows are all over the place.
Spawned from San Diego's premier singer/songwriter venue Java Joe's with the likes of Jewel and Jason Mraz. Described as McC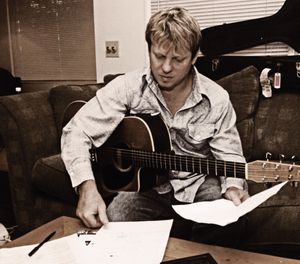 artney & John Mayer meet Neil Young & Tom Petty at a Jimmy Buffet concert, Christopher Dale mixes his many influences together to form one uniquely engaging artist. The consummate traveling troubadour, he captures your attention with his honesty, heart, and fun-loving energy. Catchy songwriting and a remarkable vocal range coupled with candid storytelling and an unparalleled devotion to entertain the audience makes each C. Dale live performance a memory that sticks to you like Super Glue!
"Christopher Dale, is an enormously gifted songwriter who has the ability to translate something profound while singing about ordinary stuff. And, often with a sense of humor and fun." - Chuck Schiele, Table Hopping CNY
Several early-career venue residencies, critically acclaimed CD releases, 11-career San Diego Music Award nominations, and the desire to support his community's needs, have made him a local favorite. Movie/TV placements and relentless touring have pushed him beyond his homegrown boundaries and into the hearts of music lovers worldwide. One female fan from Ohio who went as far as riding a unicycle two miles, in rush hour traffic, to the station of the #1 morning radio show San Diego and hijacked an hour of live airtime plugging the music of her favorite singer/songwriter made him infamous!
Realizing the important role music played in his own childhood, Dale strives to reach children and share with them the same gift.  At home, and on the road, he periodically visits local elementary schools to play his acoustic guitar and sing in the classroom. The desire to help kids and to support his community also keeps him involved with various charitable events, as well as a dedicated fundraiser/ambassador for Smile Train, a global organization that provides 100%-Free, cleft repair surgeries to children in need.