"South of the border, my northern disorder, disappears where the road turns to sand..." 
Enjoy an exclusive and inclusive, beach front getaway 
that's good for the soul! 
Eat, drink, relax, play and enjoy incredible live musical performances, in an intimate setting that serves up a little something for everyone. Walks, Bocce Ball, Horseshoes or just lounging on the beach. Dip your toes, paddle board or just float on the sea. 
"Ole, ole, ole, cheers to longer days, ole'd back in San Felipe."
Located 4 1/2 hours from San Diego, Sandollar Hotel is a Privately Gated and Well-Lighted Complex located in San Felipe on the Sea of Cortez
in Baja California, Mexico 
This boutique hotel is catering to only our group of 45 guests and features patio sitting & eating areas, a promenade deck & palapa with loungers and swings all overlooking the sea and white sandy beach.
A game room featuring ping pong, pool table & foosball adds some extra playfulness to the mix. The beautiful swimming pool with waterfall and jacuzzi compliment the sea perfectly for more aquatic experiences.

HOTEL PHOTO GALLERY
<Click The Pics To Scroll Through>
Beachin' Acousticness - San Felipe, Baja CA, Mexico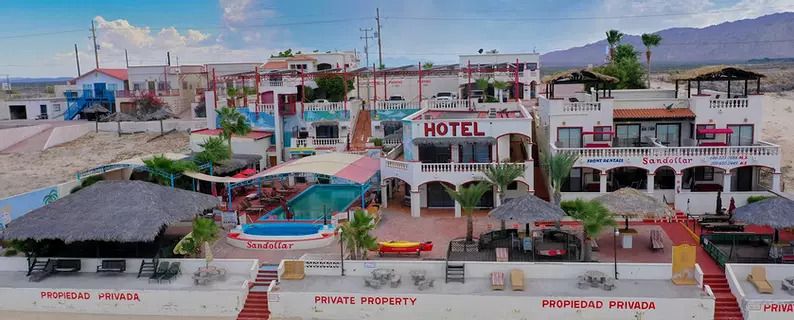 Beachin' Acousticness is an INVITE ONLY event that is an
INCREDIBLE value with lots of inclusives!

ENTERTAINMENT 

Weekend #1 - Oct 7th & 8th

Friday Night 
(7pm to 9pm)
Christopher Dale & Friends 


Saturday Afternoon
(3pm to 4pm) 
Chrissy
(4:30pm to 5:30pm) 
Rick Lamb

Saturday Night 
(6:30pm to 9:30pm)
Chuck Schiele
C. Dale


Weekend #2 - Oct 14th & 15th

Friday Night
(7pm to 9pm)
Christopher Dale & Friends
Saturday Afternoon
(2pm to 3:30pm)
Issac Diaz
(4pm to 5:30pm)
TJ Moss

Saturday Night 
(6:30pm to 9:30pm)
Reverend Stickman
C. Dale

Beachin' Acousticness Weekend Getaway Packages
are $400 per person and based on double occupancy

Packages include:
* 2 night stay at Sandollar Beachfront Hotel

* Open Bar Friday & Saturday
*  Light Lunch, Taco Night & Music Performance on Friday
* Catered  Breakfast, Build-Your-Own Nachos Bar & Dinner on Saturday
* Happy Hour Concert 
* Saturday Night Concert, under the stars
* In-room welcome package including bottled water, assorted snacks, coffee, event logo swag and more....
2022 Beachin' Acoustic Menu

Friday, Oct 14th:

Welcome Lunch/Snack (1pm - upon arrival)
Tamales - Pork and Rajas con Queso

Dinner (5:30pm to 7:30pm)
Taco Cart - Al Pastor & Pollo Asado Tacos, Quesadillas. Chips & Salsa

Saturday, Oct 15th:

Breakfast (9am to 10:30am)
Chilaquiles, Scrambled Eggs, Machaca, Potatoes, Fruit and Tortillas

Midday (1:30pm to 3:30pm)
Build-Your-Own Nachos Bar - Chips, Queso, Beans, Jalapenos, Sour Cream, Salsa...
Dinner (5:30pm to 6:30pm)
Steak & Chicken Fajitas, Cheese Enchiladas, Rice, Beans, Tortillas & Dessert
Check In at Noon on Friday.
Check Out at Noon on Sunday.

If your schedule permits, we recommend staying over on Sunday night as well, for just an additional weekday room rate. Very reasonable. Half the people usually do and it's a great day to shop and dine in town.
Even more chill and provides for an easier border crossing on Monday. OLE!
This IS an Invite Only event. If you received this private link,   email chris@christopherdalemusic.com to check availability, make your reservation and/or get more info.
See you in San Felipe...OLE!
CHRISTOPHER DALE
 "Christopher Dale is infectious and virtuoso. He rocks, he croons, he blows bubbles, he opens a vein and lets it bleed!" - Mike Sager, Writer-at-Large, Esquire Magazine. Catchy songwriting and a remarkable vocal range coupled with candid storytelling and an unparalleled devotion to entertain the audience makes each C. Dale live performance a memory that sticks to you like Super Glue!
CHUCK SCHIELE
Chuck Schiele is a 2-time San Diego Music Awards Winner who grooves and moves you. His music is textural and atmospheric while still being catchy and enjoyable. Noted for his thought-provoking, emotional lyrics delivered with his husky, soulful approach to singing, Schiele's live performances leave you feeling positively upbeat.